Source: Newsweek.com.
USA – I began my professional career as a performance artist with a circus in Spain, but I've worked in so many fields. In my early 20s I worked for the UNHCR in South East Asia doing research and then moved on to carrying out research for various organisations and people in places like Afghanistan. Eventually, I decided to make a corporate career out of that work and at 25 I joined an agency in Sydney, Australia, where I was living at the time. But I hated the corporate world.
An ex from Shanghai, where I had also lived for a time, had once told me that I would make an interesting dominatrix, but during those years working in various different jobs, I never considered myself to be sexually adventurous. I have just always been very vocal about what I want sexually and ready to ask for it. I understand now that it's not really the norm to say what you want, which is perhaps why my ex said what he did.
I'm now 36 and I've been working for ten years as a dominatrix. I initially transitioned from corporate work into the sex industry in Sydney in 2010. In the state of New South Wales, sex work is decriminalised; there is an industry there, a support system and online advertising for sex workers. So, I was able to safely dip my toe into the work and see if it was for me or not.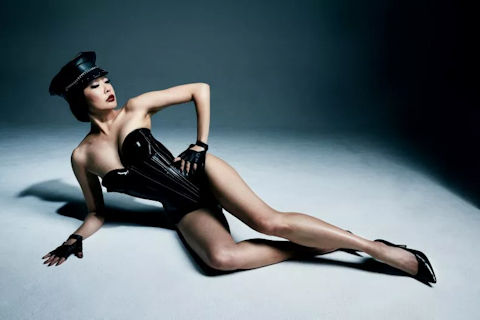 I found Salon Kitty's, a dominatrix "dungeon" in Sydney and on my first day there, just sitting in the waiting room of the house (as we called it) probably taught me the most. I was surrounded by 20 women who were very opinionated, ready to share their frustrations and debrief their sessions. After I had interviewed, I sat in on a lot of sessions with mistresses.
In some of my first sessions I was able to see the clients respond, and it was so visceral. I was in awe of how intense human connection can look.
At Salon Kitty's there were a number of very popular sessions, including anything to do with the a** or feet. I became versed in those things initially and then in corporal punishment and medical play. We would do workshops sometimes; the head mistress Amanda would organise different masters and mistresses to lead us in different skills—using rope, for example.
At the end of that first day of shadowing other mistresses, a Scottish man came in and asked to see the new Asian mistresses—which was, of course, me. I initially said no, but the other mistresses told me to ask him what he wanted and let him teach me. He showed me how to tie him up, and I ended up getting pretty into the session. I remember the room was mirrored and I could see myself laughing and looking so happy. I still have that reaction now, but I hadn't seen myself like that before.
Because I have always been willing to speak up about what I want sexually, I think my personality suits this role as a dominatrix and mistress, but it actually took a while for me to start feeling comfortable calling myself a mistress. Perhaps it was imposter's syndrome, as I'm very hard on myself and I set very high standards for how I should perform and achieve. I worked at Salon Kitty's for a year and a half before they closed and then spent another year and a half working on my own before I felt comfortable with the title.
After Salon Kitty's closed, I decided to try working as a dominatrix in Singapore and Hong Kong. I had spent some time in both places growing up and I felt comfortable there. That was around eight years ago and I still have some of my best clients in those cities—although with COVID-19 I haven't seen them for a while.
When I first started working as a dominatrix in Sydney, my clients were very varied. We had everyone from students who were just legally allowed to walk through our door, to workmen and office workers who were ducking out for their lunch break. And I had mixed gender clients. Now, because of my high price point my clients are normally white collar, C-suite professionals, definitely people who are typically travelling internationally at least twice a month, if not once a week.
They have to have the flexibility to meet me where I want, because I will tell a client when I am going to be in a certain city and that I want them to be there and book hotels or locations. You need to have a certain income to be able to do that. I usually don't meet people in their own country, but my best clients are now in Switzerland, New York in the U.S., Australia, Singapore and Hong Kong.
Right now I have 10 or 12 clients who I see on a regular basis, and they are all men apart from one woman. These clients are considered my slaves, and are typically people who are a little more ready to serve me long-term. Some people are not; perhaps Americans who have never left America and may not be as aware of hierarchy or the strictness of how I run things. I am quite a high protocol mistress with my slaves—which means I am strict and have a lot of rules to be followed.
I definitely have some married clients but I don't see them as often as my divorced or single clients, because I demand more than just an hour here or there. To get into my inner circle of slaves is pretty difficult. I have an application process rather than just accepting appointments and I don't accept a lot of people.
My application form asks lots of questions and as the years have passed I have become really picky. If someone passes that first stage, they have to meet me at a location of my choosing for lunch, and pay for the lunch and my time. Then I spend the afternoon with them, which they also pay for. If I'm OK with them after that, they can start coming to me for maybe one day to five days at a time. A day with me is US$10,000, so I will probably do a week of dominatrix work a month, as well as having online revenue streams. I earn more than I ever thought I would.
When I first started, I was only working an hour here or there and I kept the boundaries very strict; no intimate contact and various other rules. Now, it's really on a case-by-case basis and it changes over time. I consider myself polyamorous, but if I see people getting too attached I may need to create some space if it's not mutual, or, if it is mutual I might invite them in a little more in certain ways. The one rule I am very strict with is that if people come to me through the professional application route there will always be payments. I let that go into a grey area once and it got confusing.
Currently, I have my slaves who exist in that professional/personal relationship capacity. I have professional clients who I only see for an hour or so here or there and I am also just coming out of a marriage that I was in for a few years.
When I first met my husband he understood what I did as a dominatrix, but he did have an issue initially with the fact that I have previously done escort work. However, over the five years of our relationship and marriage it seemed that he was very supportive, and I think for the most part, he was. Perhaps ultimately, it was just too challenging to be with someone so practiced in being assertive when he seemingly was not.
Now, as well as my slaves and other professional clients I have two partners who didn't come to me through the professional route, here in Bali where I live. I am busy, but I think it depends how authoritarian you want to be. I tell my partners, slaves and other clients what I need from them, how I need it and what I want. I think it would be harder and more time consuming if I was more flexible.
It took me seven years and the support of a therapist to tell my parents that I was a dominatrix—I think I was scared I was going to disappoint them. I was going to organize a trip to Singapore and tell them, but I ended up sharing the news over WhatsApp in a family group chat. My stepdad hasn't said very much about it, but about a month after those messages, I took my mom on a trip to Margaret River in Australia and when we were on our own, she immediately started asking really great questions like: What the client's motivations are? What my motivations are? What do I get out of it and how often did I see the clients? She wanted to build a bigger picture, so maybe I should have given her more credit? She loves me and cares about me so much, so she pushed past her own barriers as a bible school teacher.
I have had so many friends in so many different places, and the majority of them didn't react well when I told them about my dominatrix work when I came out to them about it, which is sad. For the longest time, I only had friends who were in the sex industry. But in the past year or so, I have started to find accepting friends outside the industry.
I have no plans on stopping dominatrix work any time soon, because I want these people and these dynamics in my life for a long while. There are other things I want to do but because of how stigmatized sex work is, my options are limited. I think it's unlikely I will end up on any boards of the charities that I try to work clandestinely with any time soon.
I'm actually working on a project at the moment where I'm collecting voice stories from sex workers in Asia. One of the questions I ask them is: What is the one thing that you would say about sex work?
I answered that question myself in my own recording and my feeling is that people should be aware that each sex worker is an individual, we all have a different perspective. People have different feelings about their profession to someone else in the same industry, and sex workers also all have different feelings about our profession.
To paint sex workers with a specific brush based on their industry isn't fair to our individual experiences, emotions and reality. Like everyone else, from day to day or week to week we have different motivations.
Consider how complex as you feel as an individual—we are the same.
Mistress Eva Oh is an international dominatrix currently based in Bali. You can follow her on Twitter @youwillpleaseME