The Daily Star has taken a look back at Prince Harry's wildest raunchy nights after he revealed in his upcoming memoir Spare that he lost his virginity to an older woman in a field
Source: Dailystar.co.uk.
USA/UK – One major raunchy sex story from Prince Harry's youth has emerged since his upcoming memoir, Spare, was leaked in Spanish yesterday (Thursday, January 5).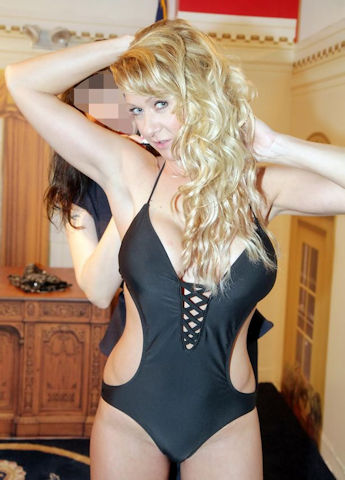 However, the Duke of Sussex has allegedly been involved in a string of other racy affairs which he hasn't managed to keep under wraps for his book.
From a behind-the-pub spanking to a night with a dominatrix, here the Daily Star takes a look at Harry's risqué history…
Two models in one night
In 2004, the Sunday People revealed that Harry shocked clubgoers in the VIP room at London's Chinawhite after he was allegedly spotted kissing and cuddling two models.
The publication wrote: "Moments after snogging Page 3 girl Lauren Pope, he was knocking back powerful Sex On The Beach cocktails with busty Cassie Sumner."
Cassie, who the 19-year-old prince reportedly invited to his private table, said that he nuzzled her earlobes, ran his fingers through her hair and invited her to continue the party elsewhere.
"He was undressing me with his eyes," the model, who is now married to Portuguese footballer Jose Fonte, said.
"I knew he'd been snogging Lauren earlier in the night but after she left he just homed in on me.
"He seemed fascinated with my breasts, because he spent more time looking at them than he did my face when we talked."
Snogging a dominatrix
Former dominatrix and stripper Carrie Reichert, who goes by Carrie Royale, claimed she saw Harry's crown jewels at a Las Vegas party in 2012.
The young prince was allegedly playing a game of strip pool when Cassie arrived.
"He definitely has a royal body. I know that he's had military training, and that's hot to me," she told In Touch.
Carrie claimed she entered a bedroom while trying to find the bathroom, only to emerge and find Harry standing there starkers and holding a drink.
She said the pair engaged in a "passionate" makeout session for around 20 minutes, in full view of other partygoers.
"He's a good kisser," Carrie said. "His hands were everywhere. His mouth was everywhere. It was a Cinderella moment."
Kensington Palace said that Carrie's story was "untrue".
Last year, when auctioning off pants she claimed Harry handed her during the night of passion, Carrie's representative said: "Harry has become such a bore, it's a real shame.
"When he partied in Vegas, everyone loved him and his sense of fun. At least these pants are a reminder of what he used to be like… when Harry was the fun prince.
"It's a shame he's all po-faced and serious these days. Even as a married dad-of-two, he should still let his hair down now and again – what's left of it anyway."
Reality TV star fling
British-born Catherine Ommanney, who stars on US Bravo reality series The Real Housewives of DC, claimed she enjoyed a month-long fling with a 21-year-old Harry when she was a 34-year-old mum-of-two.
Now 51, the divorcee spoke to The Sun in November, assume that her former toyboy wouldn't write about their romance in Spare.
She claimed she had "the time of her life" with Harry, explaining how they would act like teenagers and kiss passionately during dates.
Sharing the details of one night at a friend's house, Catherine said: "Harry and I went to the kitchen and he made a great bacon sandwich. We sat in the kitchen chatting for ages and we both had the giggles.
"We started play fighting and I think we were wrestling on and off for about 15 minutes when I told him I needed to go home.
"It was then that he lifted me by my waist off the floor and held me against the wall. He gave me the most incredible, passionate kiss I have ever had in my life. I was absolutely speechless."
Sneaking rockstar into Clarence House
Norwegian singer Camilla Romestrand, who fronts band Eddie The Gun, reportedly told pals that Harry sneaked her back into Clarence House during a romantic night in 2010.
He also apparently served her breakfast in bed.https://get-latest.convrse.media/?url=https%3A%2F%2Fwww.dailystar.co.uk%2Fnews%2Flatest-news%2Fprince-harrys-raunchiest-sex-confessions-28888400&cre=bottom&cip=42&view=web
"She's confided to a few people about her friendship with Harry. She talks about staying overnight at 'the Palace.' She says he was a 'total gentleman' but doesn't divulge much else," a source told the News of the World at the time.
Another celebrity Harry has been associated with is the late Caroline Flack after the pair were reportedly introduced in 2009.
The TV presenter is said to have given him the nickname "Jam", but the romance came to an end when news of it broke.
She wrote in her autobiography: "Once the story got out, that was it.
"We had to stop seeing each other. I was no longer Caroline Flack, TV presenter, I was Caroline Flack, Prince Harry's bit of rough."
Losing virginity to 'spanking' cougar
Evidently a fan of an older woman in his youth, Harry reveals in Spare that he lost his virginity to one – in a field behind a "very busy pub".
He says that a royal protection officer visited him in 2001 while he was still a student at Eton, supposedly to "find out the truth".
He writes: "I suspected he was referring to my recent loss of virginity, a humiliating episode with an older woman who liked macho horses and who treated me like a young stallion.
"I mounted her quickly, after which she spanked my a** and sent me away. One of my many mistakes was letting it happen in a field, just behind a very busy pub. No doubt someone had seen us."
The real reason for the check-up was that King Charles' press office had been informed a newspaper had evidence of Harry taking drugs.
Liz Hurley has denied claims that she was the cougar who bedded the teenage prince.