Source: Newsweek.com.
USA – I'm originally from a small town in North Carolina and I have a very close knit family who very much encouraged me to express myself. My first love was fashion and I first moved to New York in 2017 for a graduate school course in fashion marketing. Afterwards, I had jobs in fashion retail and temporary marketing roles, but nothing permanent.
One day, I was on Craigslist and I saw a listing for a hostess at a swingers club. I applied, went in and got the job. I had a background in sex work as I had done some stripping in North Carolina while I was in college but that club opened my eyes to the sex industry in general. For the most part, the clientele were 50 and above and the whole club was white. Coming in as a younger Black woman and seeing older white people having sex was a little strange at the beginning. But I'm very open-minded.
At the time, there was a dominatrix who worked at the coat check in the club. She was the first dominatrix I had met in person, and she was amazing. She told me so much about her work.
Eventually I came to a point where although I was working that side job, I lost my retail role and I was having to call my parents each week to pay for groceries. Even trying to pay rent was almost impossible. But I'm a determined person and I refused to move back to North Carolina; I'd told my parents I was going to make it.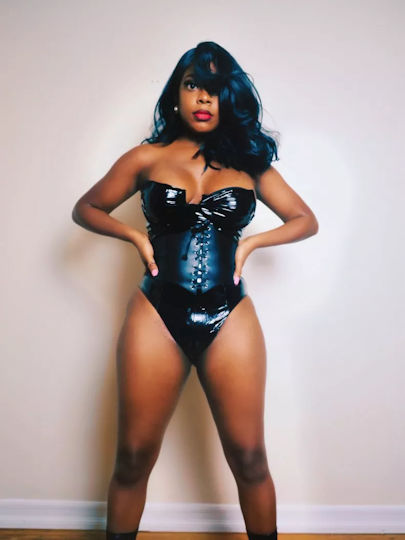 I went online and typed in: "How to make money online as a woman, being sexy." I knew about webcam sex work, but then I saw the term "financial domination." I researched and saw that financial domination—or findom as it's known—is a psychological kink where submissive men give their money to dominant women, but get nothing in return. They are basically paying women to exist.
I had the same initial reaction that everyone has now when I tell them what I do: I thought it couldn't be real.
But I went onto Twitter, typed in "#findom" and saw so many financial dominatrixes. One thing that stood out to me was that I didn't really see that many Black women in the space. At first, that discouraged me a little, but I'm also someone who doesn't believe in being held back by anything, so I made my own Twitter page.
When I started, I would occasionally reach out to other dommes asking for advice and offering to tip them for their time. Most of the time, other white dommes would either block me or be super rude. No-one really talks about the trauma that Black women often have to go through to even get into these spaces.
Still, within my first week I made $50 from an anonymous sub—I still don't know who it was. In findom, we don't ask, we demand. We say: "Hey. I just went out and spent $50 on dinner. Reimburse me." That's what I did. I posted my receipt on Twitter and said that someone needed to reimburse me. And I received $50.
The money started increasing, from $50 to $100 to $200. Sometimes these submissive men send you something called a tribute; it's a tip or token of appreciation. They're saying they love your page or they're grateful for you. I've gotten so far in my career that the standard now is that you have to send a tribute to even have a conversation with me. Tributes can range from $5 to $500.
I also do wallet draining sessions, which is when you're on a video call or talking on the phone and you're draining a sub's digital wallet as you're talking to them. It could be a 30 minute session where they start by sending $10 and then two minutes later they send $20, and so on. You're literally draining their wallet.
In the Spring of 2018, I had my first in-person "cash meet." That's where you meet with a sub in a public place. For safety reasons, I always select somewhere public. I go up to the sub and humiliate them by saying something like, "loser, give me your money." They give you the money, you might slap them if that has been agreed, and then you walk away.
It's humiliation. The men get sexual satisfaction from the loss of control. They know they're giving their money to someone they're not going to meet and who doesn't truly care about them. Something about that makes them sexually aroused.
But this all happens between two consenting adults and usually, a responsible domme will make sure that they are checking in with their subs to ensure they can still afford it. You're never forcing anyone to send you money. At the end of the day, the subs have to log into whatever app they are using and send you the money themselves.
In the past four years, I've made more than $100,000 from dominatrix work, and had everything from people putting me onto their life insurance policies, to people paying my rent. I just moved into a fabulous new three-bedroom apartment in New York City and I don't have to pay a dime for it. People pay for my furniture and my bills and I can go to any of my subs and say that I'm going out for drinks with my girls, tell them to send me money, and they send it. The most expensive single item a sub has paid for was when I went to Tulum for my 27th birthday. The vacation cost more than $5,000 and a sub sent me all the money for it. The money I make separately is barely spent, it's in savings and I've paid off loans. I'm just spending money from subs.
I went from someone who had to text their parents every week for help to buy groceries, to now buying so much for my parents. It's truly changed my life.
Besides being a financial dominatrix I am also a professional dominatrix. I do impact play and foot worship and I go to dungeons in New York City. In findom I have 10 regular subs who send me money every morning, or we are on a weekly schedule and in my pro domination work, I have five dedicated subs, or slaves, who I work with.
The demographic for my subs is 99 percent white men. I have had Black subs, but for the most part they are into things like foot worship. BDSM is not something that is widely accepted in the Black community. I can do an event now and have a sub on a leash and a Black person will look at me, as if to say, "wow." I love having white subs. To me, they are paying me reparations. And, a lot of white subs love to serve only Black dommes. They get a thrill from it.
But I'm also trying to do away with the idea of Black women being seen as a fetish. There are subs who will contact me specifically saying why they want a Black woman. I had one sub say that they knew Black women are mean and rude so they wanted me to be their domme. I had to block him. But I am very privileged to have never been in a position where a sub has made me uncomfortable.
In November 2019, I took sub on a leash to my college homecoming at North Carolina Central University, a historically Black university. To me it was the imagery: I was a Black woman walking an old white man on a leash in a Black school. That in itself was powerful. But I treated it as a professional session with a sub, he paid me for my services and I checked in on him throughout to make sure he wasn't in pain. It's not like I disregarded him because I was in a public space.
People were definitely shocked. A video of that moment went viral, although I didn't realize it was being filmed. Overnight I went from 1,000 followers on Twitter to around 13,000. My DMs were flooded with Black women asking me to teach them. I knew I had to teach so I created my Sexcademy in early 2020, and now I also earn money from teaching domination.
Because I felt like I didn't have a safe space as a Black dominatrix, I created the Black Domme Sorority. I didn't want other Black women to experience what I had been through. We now have 90 members across the U.S. and internationally, and are hoping to bring in 60 new members this fall. It's the most cherished space I have ever created in my life. Along with two other members, I'm also planning to open a dungeon in New York.
The best lesson I have learned is to be able to separate work from my personal life. I'm not Mistress Marley 24/7. There are times when I have "vanilla" weeks where I want to go to museums, parks and or go shopping.
I'm also dating someone now who knows all about my work and is very supportive. In my personal relationships, I'm actually submissive. I definitely go for alpha males, but I don't expect them to be dominating and tell me what to do. It's still all about me, but I'm definitely attracted to confident, secure alpha men.
I always want to be part of the dominatrix community; I'll always have a place here. I want to be taking money from men and whooping a** until I'm 100 years old.
Mistress Marley is a financial dominatrix and professional dominatrix based in New York. You can find out more about her at thechocolatedomme.com or follow her on Instagram @__mistressmarley. Mistress Marley's identity has been protected in this piece due to safety concerns.