Source: Swindonadvertiser.co.uk.
UK – SWINDON – A sex worker based in Swindon has spoken about what it's like being a dominatrix in the town.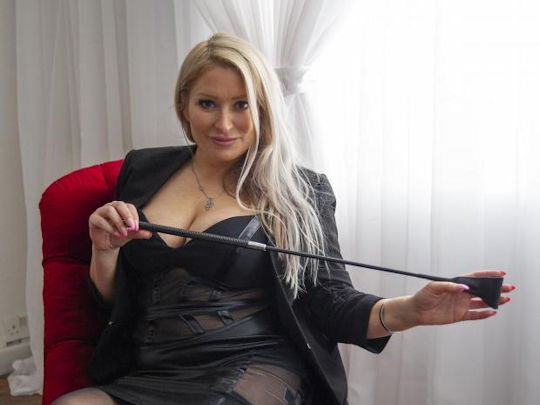 The 47-year-old who goes by the stage name 'Kaz B' revealed she makes around £35,000 by visiting clients all over the South West as well as through her own Onlyfans page.
"I've done all sorts of things. Some people might have a fetish for spanking or extreme bondage, some have a foot fetish and like to massage the feet.
"There's corporal punishment, whips, paddles and ties. Some men like to be treated like women and crossdress, some like to be humiliated."
The dominatrix, who recently moved back in with her mother in Central Swindon, was keen to stress that while a lot of people get uncomfortable when it comes to fetishes and sex work, there's a "real, beautiful, human element" to it that often gets overlooked.
"When I first got into it most of my clients were quite well-to-do men over 50, but more and more it's opening up and I'm seeing a lot of younger clients from all different kinds of backgrounds – everyone has their own kinks and fetishes which they might not be able to express," she said.
"Seeing me is therapy for a lot of people. I've started a podcast where myself and other sex workers talked about the stigma of having a fetish, and how men often face a lot of shame in their lives."
She explained that a lot of her clients lacked confidence and thought less of themselves because of their kinks.
"Years and years ago another dominatrix and I were domming a young man who wanted to be humilated but it was too much for him and he ended up telling us he needed to stop and started bawling his eyes out.
"We ended up just getting a Chinese and watching a movie with him."
Asked what her friends and family thought about it, Kaz B said they 'didn't mind' and that while they ask her to share stories she keeps shtum about what her clients get up to.
Kaz B added that she has got to know a lot of her clients at a deep level and has seen them grow as people as a result. She said this positivity doesn't get acknowledged enough in the industry.
But being a sex worker has also helped her overcome a troubled upbringing and mental hangups of her own and improved her confidence as well.
"I have always been really shy," she said. "I was bullied at school and I was in an abusive relationship when I was younger. 
"Sex work has really helped because it's fulfilling and rewarding to help somebody be who they should be. You get this private bond with someone which helps them but it also helps you.
"It has helped me work through my own issues and anxiety."
Kaz B is also an aspiring filmmaker, a novelist and is currently in the process of making a documentary to further break down the stigma attached to sex work and what she does.
Links:
Website: UK-fetish.co.uk
Twitter: Twitter.com/kazbxx
Instagram: Instagram.com/fetishdomme