I wore the Skims latex bra as a top on a night out – people say it's giving 'dominatrix' vibes
Source: The-sun.com.
USA – KIM Kardashian's Skims has released a latex line, and fans are having mixed reactions.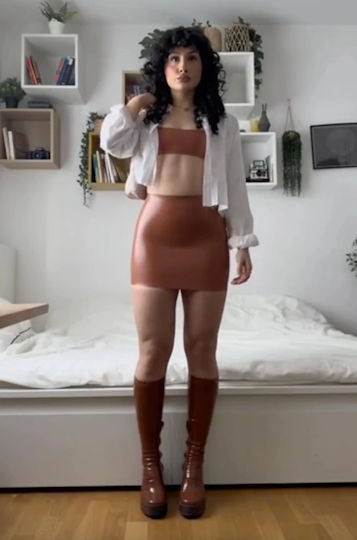 One young woman wore an item from the collection on a night out but some viewers thought it was better suited for the bedroom.
A model for Skims shared her night-out look, which featured a popular new garment.
"Get ready with me for a night out in my Skims," influencer Kozhin (@kozhin) wrote in the clip.
Before trying on the iconic items, the TikToker held them up for her viewers while wearing a simple black outfit.
Kozhin showed her followers the $58 latex scoop neck bralette in the color Bronze.
The TikTok user also modeled the matching $78 latex mini skirt.
Kozhin's knee-high platform leather boots were a similar shade of orange.
The model layered an open white button-up over her stylish look.
She then added a long beige camel coat and a handbag to her outfit.
The latex look sculpted Kozhin's curves while also showing off her toned midriff.
The influencer accessorized her night-out clothes with gold earrings and a matching necklace.
TikTok users took to the comments section of the official Skims try-on to share their thoughts.
"As a dominatrix, I NEED THISSS," wrote one impressed viewer.
Another follower said they are "obsessed with this set."
"I don't know, it looks so uncomfy," commented a third person.