Source: Dailystar.co.uk.
UK – EXCLUSIVE: Queen Tricks and Goddess Alexi, known "The Dark Angels" on Domin8trix, have been domming together for approximately a year. Now they shared their saucy antics as a duo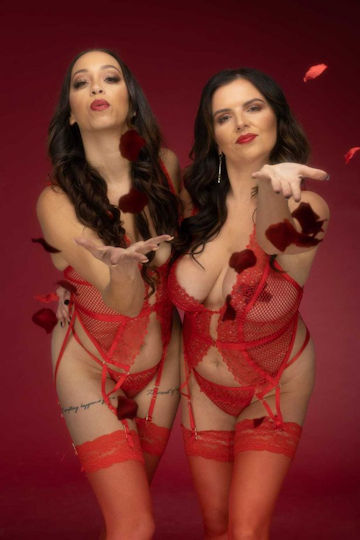 There are so many reasons why people would visit a dominatrix.
Those who want to explore their kinks and fetishes would seek a professional to help them unleash their wild sides.
And one trend which seems to becoming popular in the world of sex is dominatrix duos.
Queen Tricks and Goddess Alexi are known as "The Dark Angels" on popular cam and chat platform Domin8trix.
The sexy pair have been domming together for around a year – performing in online camming as well as live sessions.
And one of their most popular services is mocking blokes who aren't very well-endowed.
Now in an exclusive chat with Daily Star, The Dark Angels revealed all about their kinky venture.
Queen Tricks said: "When it comes to domming, we're definitely chalk and cheese.
"But when it comes to double domming, we always make sure to listen to what our customers' needs are.
"We cover so many styles of domming and have so much fun together on webcam!
"We do a lot of humiliation – often singing songs to guys with small penises. They love it when we mock them."
The pair often get together on multiple times in the week, whether it's a Wednesday or Friday evening.
And the fun never stops for them as between their sessions, they make time to create steamy content together.
"We have a live session coming up in which we'll be pretending we're in the fire brigade," Queen Tricks added.
"He wanted us to actually lift him – he's asked Alexi is she can lift me and himself onto her shoulders."
The dominatrix claimed the pair are often "up for anything" so they respected their client's unusual request.
Speaking about the most interesting client, Goddess Alexi recalled a very special moment with a dominant guy.
It was so unique that the dominatrix claimed it was a huge turn-on for her.
The three had a webcam session which ended up with them all completely naked.
Goddess Alexi described: "For a guy to have a goddess switch, I think that's a huge turn on."
She continued: "He asked me to put my hair in pig tails, make myself look like a bimbo, write sl*t on my face.
"Queen Tricks taped me up, spanked and gagged me. She was also in charge of the dildo.
"Despite all this, he was very respectful and understanding of the fact that I am a dominant.
"He was very impressed and has returned several times to domme with The Dark Angels."