Source: Distractify.com.
USA – In ABC's successful crime drama How to Get Away with Murder, the incomparable Viola Davis plays defense attorney turned law professor Annalise Keating. The show partially focuses on Annalise's time as a criminal law professor though it feels as if she's teaching her students about the potential for evil in humanity.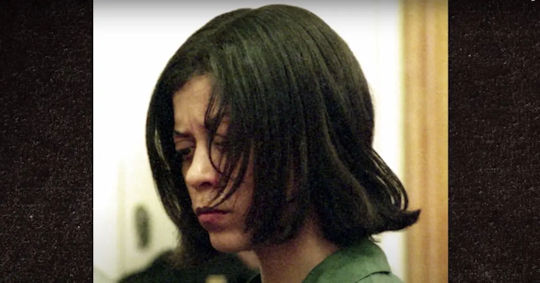 And while evil doesn't really exist and is just a manipulative tool utilized by religions, trauma certainly does.
In what feels like life imitating art after it already imitated life, ABC News Studios is bringing The Lesson is Murder to Hulu. Bryanna Fox is, for all intents and purposes, the Annalise of this series.
According to Deadline, the criminology professor and former FBI Special Agent "asks why killers kill and is now teaching a class to shed new light on the mind of murderers as she tries to help the next generation of criminologists." One such killer is Ivie DeMolina. What did she do and where is she now? Here's what we know.
Where is Ivie DeMolina now?
Ivie DeMolina is currently serving time at Bedford Hills Correctional Facility in New York. She has been there since 1996 after being "sentenced to 25 years to life," per The New York Times Magazine. What got her there is not quite as cut and dry as it might seem from a superficial standpoint.
ABC News reported that "in August 1994, police in New York and New Jersey were investigating a murder in each state and found a common connection: Ivie DeMolina." At the time, then-27-year-old DeMolina was working as a dominatrix with a few friends. While her stint as a sex worker was brief, the crimes that followed came in quick succession.
One morning she and her accomplices went to New Jersey to visit a previous client. While there they tied him up and robbed him. No one had to get hurt — until someone actually got hurt. The next day, DeMolina got in touch with James Polites, a New Jersey man she once dated. Things were moving in a similar direction apart from the fact that Polites didn't live through this meet-up.
From New Jersey, DeMolina and her friends moved on to Long Island where they ended up at the home of Joseph Fiammetta. DeMolina was also acquainted. Just like Polites, Flammetta would not make it to the next morning. He was later found stabbed to death. Once caught, DeMolina had two separate trials to contend with. New York is where she received her 25 years to life sentence and in New Jersey, DeMolina brokered a plea deal.
Said plea deal "resulted in a second sentence, of 30 years to life, to run consecutive to — rather than concurrent with — the New York sentence," via The New York Times Magazine.
What could have helped her prison time, if only a little bit, was if either state received a full psychiatric evaluation of DeMolina. She never backed away from admitting her guilt, but she maintains that context matters.
Ivie DeMolina was sexually abused as a child but has since found a higher calling.
In an essay she penned for Harpers Bazaar, DeMolina cracked open her soul to reveal a woman who has done a lot of self-searching. While communicating with a pen pal, she agonized over revealing to him that as a child DeMolina was repeatedly sexually abused by her half-brother. To cope with her trauma, she turned to drugs and later violence.
"As an adult, she thought inflicting pain on her clients would release anger toward her abuser. She was wrong."
While in prison, DeMolina was asked to be in a fledgling peer supporter program. It turns out that helping others was ultimately the path of forgiveness for herself and others. The first woman she became a peer supporter for admitted that she was a pedophile and that those feelings contributed to suicidal thoughts. This triggered the trauma that long-lived inside of DeMolina but it also freed her. "The ability to witness her pain helped me witness my own," she wrote.
DeMolina wants to earn her doctorate in order to "give a voice to those who have experienced childhood sexual abuse." She still hopes to walk out of prison one day to stretch her dreams even further, help more folks. "My intention is that they, too, can learn to respect and love themselves again—to live."