She (Mistress Marley) makes money simply by demanding her submissives to send her cash gifts — and will sometimes take them for a stroll on a leash(with podcastlink)
Source: BKmag.com.
USA – Mistress Marley came out publicly as a dominatrix when she attended her college's homecoming weekend in 2019, just a couple years after graduating. She arrived at her alma mater — North Carolina Central University, a historically Black college — with an older white male submissive on a leash.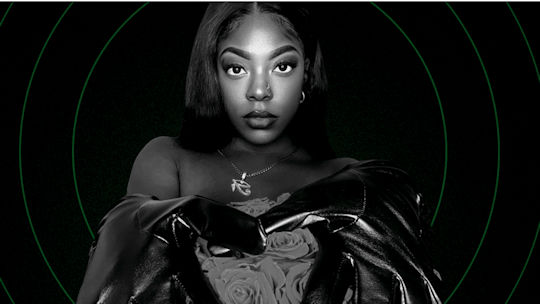 "A lot of people were doubling back," she says. "My best friends were loving it. They were taking pictures and stuff. But the funny thing is, the video that went viral, I didn't even know it was being taken of me until I logged onto Twitter and saw it the next day."
Mistress Marley, to be more precise, is a financial dominatrix, which is exactly what it sounds like: Her clients, almost all men and almost all white, are financial submissives — finsubs in the industry jargon. Their kink? They send her money simply because she demands it of them. No sex or nudity is involved.
You might not understand it, but the human heart is boundless and unknowable. In Mistress Marley's world, subs get off by giving her cold hard cash. It's about loss of control. It's about ceding power. It's about flipping the script. And for Mistress Marley, it's also about reparations.
Sometimes there is no interaction beyond a cash gift sent through Cash App, Venmo or Twitter. Other times, it's a little more interactive. Some of her subs will agree to meet her in public, where she will take them to an ATM and help them drain their account, or maybe walk them on a leash in public and have them kiss her feet. It is all consensual and it is, for Mistress Marley, apparently pretty lucrative.
Mistress Marley (Brooklyn Magazine is not using her real name in order to help protect her privacy), is this week's guest on "Brooklyn Magazine: The Podcast." She has a master's degree in fashion marketing, a dungeon called Whipz in East New York and her own lingerie line — Pynk Matrixx, for sex workers, by sex workers.
In this interview, Mistress Marley, who also teaches aspiring findommes the tricks of the trade, describes how she got into this line of work, what it entails, and offers a few tips for people who might be interested in her line of work.
You are a financial dominatrix. What is financial domination?
Financial domination is basically a psychological kink that involves a submissive giving the dominant their money with nothing in return. So, it's pretty much a form of humiliation where you have these submissive people, whether they're men or women — more so men — that just want to give their money away, and they get off by doing that. It's my job to take that money from them.
The turn-on here is loss of control? Break it down for us. People are giving you money as a form of sublimation, as a form of humiliation, as a tribute. What is happening here?
Basically as a dominatrix, a sub see us and they want us to be in control. They want to be controlled. But when you have financial subs, which we also call finsubs, they want to have no control over their money. So, first they'll send something called a tribute, and a tribute is just the amount that they send to even be able to talk to us. So, that doesn't include any type of back and forth, that doesn't include any type of video chatting or pictures or anything of that nature. It's just what they send as a respect for us, and usually that's an amount that we set ourselves.
Where does this happen? Is it Twitter? Is it OnlyFans?
Oh god, it can happen anywhere. It's happened to me on Facebook. It's happened on Twitter, it's happened on YouTube. I mean anywhere where they can find me. But the main platform that you'll see a lot of financial dommes on is Twitter.
From what I understand, and you can explain it better, there are different tiers to this. You're saying someone can just see you're on Twitter and they find you and they just say, what? It would turn me on to give you money?
Sometimes they don't even say anything. Sometimes I'll just check my Cash App and I'll see a tribute from somebody. We call those people silent senders. You have a lot of finsubs that aren't really out about being financial subs. They might be wanting to hide it or whatever. So, they'll send to you silently and they won't message you or anything. But then you have the subs that want to let you know, "Hey, goddess," or "Hey mistress, I just sent $40. Thank you for taking my money. I want to serve you." Whatever. It comes with different conversations sometimes.
A lot of it happens virtually, but you do this in person as well sometimes.
We call them cash meets, and it's literally where you just meet a sub in a public place. You guys already agree upon an amount of money before meeting. They hand you that money. You could either humiliate them or you just walk away.
The thing when you exploded into the public sphere was you showed up at your own college homecoming with a sub on a leash.
I did.
Tell that story.
It definitely wasn't planned. I knew I was going to homecoming to meet with my friends. I had already been removed from college for two years.
Where did you go to school, if you feel like sharing that?
I went to North Carolina Central University, which is also an HBCU, so it was very symbolic.
Historic Black university, yeah.
I'm still always kind of in work mode, so I'm thinking, okay, I'm going to North Carolina for homecoming, but I also can maybe make some money for some sessions. So, I put an ad up on this website called FetLife. And FetLife is a kinky Facebook for those that don't know, it's like all types of stuff. You can find out about so many events going on in New York all over the place.
It's like a kink social network.
I put a ad up there that I'm coming to North Carolina, open for sessions or whatever. So, this guy reached out to me literally a day before I had my flight down, and he was like, "I would love to be humiliated on your leash." I said, "Well, I'm going to my homecoming, so if you want to be publicly humiliated …" And at first I was like, he's definitely going to say no to that, because homecomings have thousands of people. He was like, "I would love to, of course." And the guy was so excited to be walked on my leash that we weren't supposed to be out there till 5 p.m., he was waiting on campus since 12 p.m. just waiting.
You're at your reunion essentially where people know you. This is not an anonymous situation where you've got a sub on a leash. What was reaction like?
A lot of people were doubling back. "What did I just see?" type of thing. And then some of my friends I hadn't seen in years, they were like, "Oh my God, what?" Because this is pretty much my public coming out as a dominatrix. My best friends were loving it. They were taking pictures and stuff. But the funny thing is the video that went viral, I didn't even know it was being taken of me until I logged onto Twitter and saw it the next day. So, that was from a bystander, just taking the video.
Right. And they said you had a sugar daddy and you had to correct them.
Yeah, I had to let them know. And then that went viral. Next thing I know, my Twitter's like crashing. So many people are following me. So many women are in my inbox, "Please teach me." I had to start teaching it, it was a lot.
Can I ask how much you made that day?
That was an $800 session, and I only walked him for two hours.
And to be clear, from what I understand, this is not physically sexual. There's stuff like leashes and maybe spanking or face-sitting. But it's emotional and psychological humiliation. Correct?
Yeah.
Can you break down the tiers of what you do and what it costs?
Different things have different costs based on the energy I have to put into them. So for instance, one of the big ones is foot worship. You'll see a lot of subs that are into rubbing your feet, giving you massages, kissing your feet or whatever. Something like that will start out standard $400 an hour.
Wow.
And then you have more intense things like spanking, subs that want spanking. I'll start off at $800 an hour because that's more physical for me. It takes more energy. You have to be very careful with those types of things. Then you have some subs that like feminization, which is they like to dress up as women and be made fun of. Which I love those because it's me teaching them how to put on makeup and how to walk in heels. Something like that would run like $500 an hour. And then humiliation, it just depends on what type they want. If they want public, it's more money. If they just want private, it'll be less. But these things vary. I've gotten so many messages of so many different types of kinks that it's so many out there, you would just never know.
What is the most out there thing that you would agree to?
We've had guys that wanted us to role play kidnapping them. So, literally getting a car and throwing them in the back of the car and acting like we're kidnapping them.
How do you get into this in the first place?
I have my masters in fashion marketing. That's why I moved to New York and after grad school, going from job to job, nine to fives, retail, it was just too much. It was just too crazy. I still feel like I wasn't making the amount of money I should be making to live comfortably in New York. So, I went on Craigslist and there was an opening for a hostess for a swinger's club, and they just wanted someone to serve drinks and check in on guests. There was this lady that worked in coat check. She was an older lady, and on our break she would talk to me and she was saying how she used to be a dominatrix, and I was like, I've heard of that through "Fifty Shades of Gray." And that's a horrible example. But I did more research and that's when I stumbled upon financial domination and I went on Twitter and I saw girls just saying, "Send money for my food. I just went out to eat." They would post pictures of their receipts. And I was like everyone else. At first I was like, there's no way. This is not real. No one's just going to send me money for nothing.
But they do.
They do. And I posted my first receipt, it was for $50, and I looked at my Cash App and I was like, I'm quitting my job today.
There's a New York Times article about you, and you're in Tulum for your birthday, and you're like, I need money for drinks. And then the money literally just starts piling into your Cash App from submissives from wherever.
It's all a psychological thing of, "God, I'll never be able to get near her or touch her, but at least I can send something. So, I can have a little bit of attention from her for five seconds, even if it's attention of just me calling him a loser, or you should send more money, things like that."
And you do verbally degrade people?
Yes.
When they want you to. You don't do anything no one wants.
Consensually.
Aside from making money, do you derive pleasure from this? Or have you learned to, or have you started to, or did you always?
I enjoy being in control and I love the feeling of the pampering. Even when I do physical in-person sessions, just the feeling of walking into the dungeon because I also co-own a dungeon in Brooklyn.
In Brooklyn, where is this dungeon?
It's in East New York. Just walking in a room and just seeing them cower under me or be on their knees or just want to just do anything they can for me in that moment, it's powerful and it's a great feeling.
What is the demographic breakdown of your clients?
Definitely 98 percent are white men.
Are they usually wealthy? I'm leaping to conclusions here, but I'm guessing their people who have some financial means and maybe power in their day job and want to give that over? Or is that just a gross stereotype?
Well, it actually varies. I've had CEOs, I've had Wall Street guys, I've had tech guys, but I've also had your regular nine to fivers, your everyday guy. I've even had college students and stuff like that. It really just depends. I've even had professional athletes.
You've had clients who we would know maybe?
Yes.
But you're not going to tell me.
No, because of the NDAs.
You're obviously a powerful, strong Black woman. You have a paddle with the word "reparations" on it. Talk about the racial component here.
There's different categories. There's different categories in the adult industry overall. But within BDSM, there's one that we have called BNWO, which stands for Black New World Order. And you'll see a lot of Black dommes use it most of the time. You don't see us outright saying, "We're here to humiliate white men or whatever." The subs will come to us automatically and say, "I'm white. I'm pitiful. Please take my money." They start it off pretty much.
You're not going out of your way to attack people.
You'll have subs that will put themselves down before you can even start to do it, which makes your job easier because now you know how to build off on them and make them feel humiliated. But I think the racial element too, for a lot of these white men, it's knowing that if their family and friends knew that they were kissing the feed of a Black woman or licking a floor in front of a Black woman and stuff like that, maybe they would be shunned, maybe they would be disowned. It gets into different elements of the mind. You'll find that a lot of them really want to serve Black women or they make it their duty to do so.
What was the first time you did this like? Were you nervous? Were you like, "I don't know if I can do this?" Were you like, "Let's go!"?
My first in-person session was a mix of both, it was like, "Let's go!" And then it was like, "I'm nervous." And my roommate at the time, who was my best friend also, he was just like, "I got your back. I'll be your security. You stay on the phone." And the guy that I had this session with was so like, "Oh, I have a high pain tolerance. My pain tolerance is a 10 on the level of spanking." Then we get there for the session and his pain tolerance was so low that we ended the session like five minutes in.
Maybe you're just strong.
The thing is I was barely even hitting him, but of course I still kept the full session payment. Now when I work with subs, I'm like, "Don't lie about what you can take and what you can't take," because it can make the session dangerous and it can just also be annoying at the same time.
In any element of sex work you're putting yourself at risk. Even if you're the domme, there's a vulnerability I would imagine. Has it ever gotten dicey for you?
I fortunately have never been in a situation where I felt like I was unsafe. I always tell people entering this industry, if you have a point of contact that you can use a security, if you don't want to use your money to hire security, use that. And fortunately, my business partner at the dungeon, she sits in on sessions. She'll be there if I feel like I really need her. But I've never had any situations where I felt like they were trying to stalk me or get any personal information out of me, thankfully.
What is the biggest pitfall or obstacle for you?
I think the biggest obstacle is we still deal with racism within this industry. I'll have subs that'll come to me, they'll be like, "A white domme is charging less." And of course they're under anonymous accounts where you'll never know who they are. Or I've even just had people just come in my inbox and call me the N-word and then block me. And it's just like, "Okay, well I hope you have a shitty day."
There were two years, or at least a good year-and-a-half where you couldn't interact with people. Did you make money during that time? Because you can do this remotely. It must have been kind of nice?
Oh, the money was flowing because there was a lot of men that still needed to fulfill a fetish. So, this is when OnlyFans became big. When Beyoncé shouted it out, of course in the song, this is when people were just wanted sessions for everything. And then that's when I got into teaching too. It was the best time to make money. I mean, there were even virtual strip clubs. It was a good time for sex workers virtually.
What's the biggest misconception? When you're at a party or at a bar or whatever, do you tell people what you do? And if you do, how often have you had this conversation that we're having right now?
I'm very big on separating my kink life from my vanilla life. Unless I'm in an event that's kink based or BDSM based or sex work based, I pretty much try not to talk about it. If it comes up naturally in regular conversation, then it comes up. But I don't introduce myself as like, "I'm Marley, dominatrix. Who are you?" I'm just me. I'm here. If people ask about it, people ask for my Instagram, of course it goes from there. But I think the biggest misconception of this is that sex work isn't work. People look and they think, oh, I'm lazy. I'm just getting money from men and not doing anything else. My job is all day. I can have someone hit me up at 2 a.m., 3 a.m. wanting a session or wanting to send me money, or even the marketing. I'm my own HR. I'm my own payroll. If something goes wrong, I can't go complain to anyone. Even if I'm in session and something goes wrong, technically I can't go to the police without it being a big thing. We have to look out for so much on our own.
Do you think that's changing at all? Because just in the past two to five years or whatever "sex work is work" has become almost like a bumper sticker. Do you think that that has caught on? Is it resonating or not?
No. Even more so recently, there was a domme that had a post on Twitter. She was like, "What are the unpopular opinions about sex work?" There were like 10,000 quotes and all of them were from people saying, "Get a real job." It was so much negativity to our sex workers. So, it's not where it needs to be yet.
In your "vanilla" life, are you able to have a romantic life or is that something you don't have time for? How does dating work for you?
I actually date. I date, but I'm very transparent with the guys I date. I let them know right up front because at the end of the day, I'm all over the internet, so they're going to find out in some way. So. I just tell them straight up what I am, what I do, because I think the common misconception with dating is a lot of these guys think that I'm having sex with my clients, which is far from the truth. It's just being transparent with them, letting them know the education portion. I've even had guys where I dated and I invited them to a kink party just so they can see what goes on. This is what I do. Do I plan to whup ass for the rest of my life? No, but right now I am, so.
Have you been able to have a relationship or have guys not been able to handle it, or little bit of both?
It's been a little bit of both. So, there's been guys that after the first or second date, I can already tell it's not going to work. They're already saying, "You're not going to do that to me." And I'm like, "Well, you didn't pay me. I didn't bring that up and ever said you had to do it." I never expect my partners to be submissive because surprisingly, in my regular relationships, I'm submissive, so I can be a switch. I like alpha man. I like men that take the leadership role. So, they think that I'm automatically going to put them on a leash. And you have ones that are receptive to the information.
You said you're all over the internet. Do your parents know what you do?
They do. I just sent my dad the information yesterday for my dungeon. He's on Instagram commenting on the pictures, "I love this," "I like this," whatever. And he's always asking me questions and he has my New York Times article framed in the house.
What were you like as a little girl? If you're 12-year-old self knew what you were doing now, what would that be like?
She'd be like, "Of course." I was always very rebellious. I was a kid in school where we had school uniforms and I tried to make it colorful and wearing different stuff. I was already wearing high heels to school every day in ninth grade. I was just always rebellious.
And you teach?
I actively teach. So, Monday I'm starting a financial domination bootcamp and it's like a four week bootcamp. I cut it off at 150 students. I do that and then I have a Patreon, which is only $5 per month, and there's over 200 courses. And that Patreon started April 2020, so right at the height of the pandemic. Then, at my dungeon, we have something called Domme Academy. The dungeon is called Whipz Dungeon, and we have Whipz Dungeon Domme Academy where we teach 15 women in person and they get hands-on experience and they actually get to practice on subs and stuff. I try to reach as many people as possible.
I know that you make money doing this, so not to give it away for free, but do you have any tips for someone who's looking to get into this?
Be yourself. I know that sounds very cliché, but people think when they see "dominatrix," they think they have to be hardcore leather, latex, sadistic. I'm not even sadistic. I can be sensually sadistic. I can be a sweetheart, I can be nurturing. There's so many different personalities you can take on as a domme. But the biggest thing is to just be yourself because there's more dominatrixes popping up now, so everyone's trying to look at everyone else to see what they're doing. My recipe for success was literally just being myself. Also always make sure you get half deposit before doing anything.
That's very practical.
Some people will try to get free kink out of you, so get half deposit.
Read and listen more on: BKmag.com.