Source: Dailystar.co.uk.
UK – Luna Rose is not your average mum – she happens to be a pink-haired sexy dominatrix and Babestation model. But, life wasn't always so glamorous for the parent…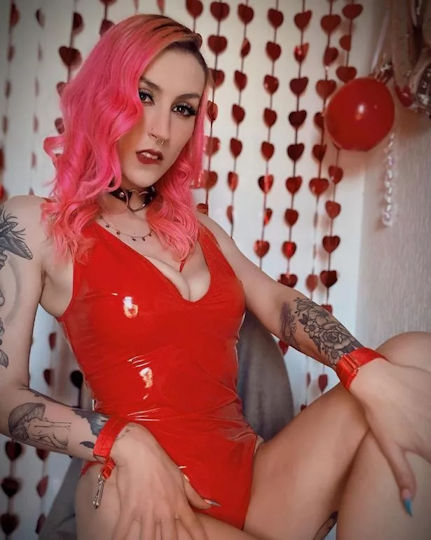 A pint-pouring mum turned dominatrix revealed how life is better enjoyed on the kinky side.
Luna Rose, 24, from Walsall, got her first taste for modelling when she was just 16-years-old.
The pink-haired parent dressed up as a dead Alice in Wonderland at a Comic Con – and quickly found herself immersed in a world of photographers and content creators.
Despite loving it in front of the camera, Luna took up a pub job to help support her five-year-old son.
And it wasn't until she landed work as a Babestation girl and dominatrix that she was able to leave the boozer for good.
In an exclusive interview, the sexy mum shared how her life has changed since dabbling with chains and whips.
"It's ever so much an ego boost and confidence boost.
"At the end of the day, people pay to see you so the ego boost is there definitely.
"My fans love it. I tend to cater to the masses as I do understand some things that I may do aren't for some.
"But then I'll try and tweak things to make sure there's something for everyone on there…
"I understand that people don't always like that side of kink.
"So I've got the more 'normal' model and boutique photos and lingerie too.
"As well as all the gory stuff let's say…"
Luna also films a lot of collaborations – and loves working with other women in the bedroom.
The mum-of-one recently joined subscriber platform FrontFanz after fears of demonetising from OnlyFans.
As the latter have stricter guidelines on the content that can be posted, Luna is looking forward to showing off her full potential.
"I do a lot of stuff in the kink scene such as spanking, punishment and certain pegging," she said.
"And OnlyFans don't want some of that.
"But FrontFanz is way more welcoming to the kink community.
https://get-latest.convrse.media/?url=https%3A%2F%2Fwww.dailystar.co.uk%2Freal-life%2Fi-pulled-pints-pub-support-30175467&cre=bottom&cip=32&view=web
"I've done some boy girl, girl girl and some girl girl girl content.
"I love working with girls, the boys can be a bit overrated in my opinion."
Despite earning a living and providing for her son through sex work, her job is still looked down upon by many.
Whether its mums at school or comments from people online, Luna is unfussed about what people have to say about her.
"I honestly don't care what people think about me," Luna urged.
"I spent most life not worrying about how people would perceive me and I'm just here to have a good time.
"I've got past that now. People can think what they and want and say what they want, but at the end of the day who is getting the subscriptions.