EXCLUSIVE: Lara, AKA Divine Theratrix is a Conscious Kink Facilitator and Certified Counselling Therapist at JOYclub.com. She works as a sex dungeon monitor as has given us the low-down on the racy job
Source: Dailystar.co.uk.
UK – A lot of people wouldn't have first-hand experience of visiting a sex dungeon.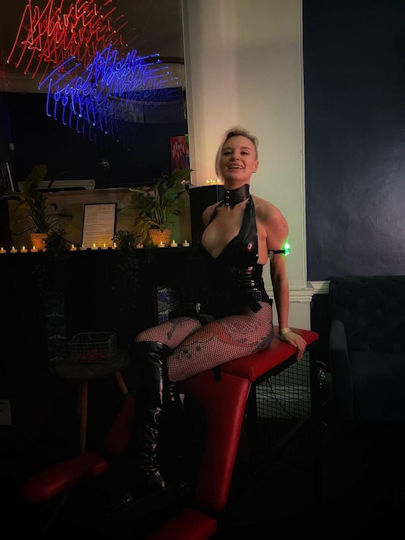 But have no fear, as we at Daily Star are about to give you the inside scoop on the racy clubs from an insider who actually works in one.
Lara, AKA Divine Theratrix is a Conscious Kink Facilitator and Certified Counselling Therapist at JOYclub.com.
She works as a sex dungeon monitor to make sure things are safe at the club.
But what does that entail?
"A dungeon monitor is responsible for understanding the code of conduct that applies to every event, so they can manage these spaces and ensure guests adhere to any rules in place," Lara exclusively told Daily Star.
"When I begin a shift as a dungeon monitor, the first thing I do is survey the layout of the space and check that any equipment (like furniture, safe sex supplies, and cleaning products) are in order, whilst checking that areas where play might take place are visible to me.
"Controlling the flow of people into a play space is also an ongoing task – it's important the dungeon doesn't become too crowded."
She added: "I remind folks entering our space what the rules are and let them know that they can come to me for assistance if needed. Keeping an eye on people's intoxication levels is necessary too, and if I see anyone who seems uncomfortable or in need of guidance I check in with them.
"Sometimes people have questions about how to use equipment, and my most frequent intervention is to remind people to wipe equipment down after they've used it."
And how did she get the role?
"Lots of my friends run sex events which require monitors to ensure all safeguarding requirements are met – that's how I began working in this role," she said.
"I am well-known within adult communities. I am therefore trusted to work at sex parties, creating safe spaces for nudity and sexual expression.
"My experience as a lawyer and therapist also makes me uniquely qualified to understand the regulatory requirements that apply to these spaces, in addition to the psychological and emotional needs of those attending."
https://get-latest.convrse.media/?url=https%3A%2F%2Fwww.dailystar.co.uk%2Flove-sex%2Finside-racy-world-sex-dungeons-30460033&cre=bottom&cip=25&view=web
When asked what the inside of a sex dungeon looks like, Lara says it 'depends on the venue and event', as some are intimate affairs, whereas others can have hundreds or even thousands.
She says there are usually DJs playing music though, chillout areas and performances going on.
"If there is an area designated as a dungeon, then you can usually expect to find various pieces of furniture for people to incorporate into their play scenes, such as a St Andrew's Cross, spanking benches, cages, queening stools, bondage beds, and sex swings," adds Lara.
Lara says the parties are so good that she even attends them in her free time.
"These days I work at more parties than I personally attend, and I also host my own events, but I still love getting together with my sex-positive friends to have an adventure together whilst letting my hair down," she said.
Well is certainly sounds like a wild night of fun, that's for sure!