Source: Whoreuro.com.
SOUTH – AFRICA The realm of BDSM is one that consistently rewards its participants with a variety of pleasure, pain, and sexual discovery.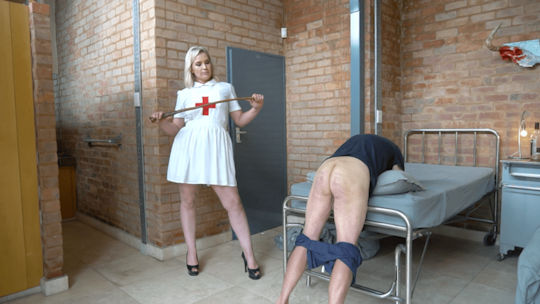 Take, for example, South Africa. Although it's a country of awe-inspiring history, culture, and cuisine, it's not particularly well known for its BDSM scene.
Recently, I was fortunate enough to discover Mistress Baton. A South African-based Dominatrix, disciplinarian, and well-established producer of BDSM content.
You may remember her from one of my previous articles covering Mistress Baton's historical porn masterpiece that saw her roleplay as a sadistic Boer commando who took divine pleasure in ruthlessly whipping the bare behinds of captured British troops.
The scene was a big hit amongst my readers with a penchant for S&M, and not just because of Mistress' caning skills which she honed with training from various specialist punishes ranging from an SA Correctional Services caner and a SAPS cancer.
"This particular BDSM implement is so severe and infamous, that it is outlawed in certain countries like Spain."
The question on many of your lips was: "What an earth is that divine caning instrument in her hand?"
To answer that question, I called upon the knowledge of Mistress Baton herself. Today, she will lead us by her skilled and disciplined whip hand to explore the fascinating world of the Sjambok and other BDSM tools from the heart of Africa.
The Sjambok: The notorious African whipping stick
Other names: Sambok (Afrikaans), Imvubu.
The Sjambok is sometimes called a type of whip, which is misleading – It is a rigid and stiff implement – quite the opposite of a whip.
It was traditionally made from hippopotamus or rhinoceros hide. It has been used for centuries by cowherds and wagon drivers, to drive large cattle on the African plains. Additionally, it is also used to look for and drive away snakes in the long grass.
During the Apartheid era in South Africa, rubber sjamboks were used to break up riots by the Apartheid police, sometimes causing deaths.
These days, plastic sjamboks are most commonly used and most readily available – it's even sold here in South Africa at traffic lights at intersections! Typically from a mixture of heated plastics bonded together.
It is widely used in informal township courts, by Oqonda (township vigilantes) in South Africa, to significant effect. Mostly on youths who steal, use drugs or sell drugs.
During the transition post-apartheid, some Comrades (left-wing activists or particularly militant supporters of the African National Congress) became what you call ComTsotsi: a slang term used to describe a Comrade with criminal element motives.
There was a DC, a Kangaroo Court, and the sentence was commonly 50 lashes. This was seen as a solution to get rid of that criminal element to a Comrade. 
A particularly dark fact about the Sjambok involves Adolf Hitler. The former dictator of the Third Reich was said to be so fascinated by Sjamboks that it was borderline obsessive.
It's also said that Hitler imported sjamboks from South Africa and was rumoured to have quite a collection.
Another variation of sjambok variation is the "Lerala" (Sepedi/Northern Sotho). This was a leather implement crafted as a flexible stick and used to punish specifically men who raped/stole/etc.
The wooden spoon in BDSM
Other names: Paplepel (Afrikaans) or Ukhezo (Zulu).
This is an implement primarily used as a swift form of justice on small children in the kitchen across South Africa. In BDSM circles, they've found a new role for lovers of impact play.
When used in BDSM play, a wooden spoon can achieve a quiet but forceful impact on a sub. This often results in a rather intense stinging sensation.
Tree Switches for Birching
Whipping as a form of corporal punishment goes back to the Medieval era in the British Isles and was commonly used to enforce discipline or enact punishment, particularly in the military.
In 1862, Victorian courts were granted access to Birching. This form of corporal punishment saw victims struck repeatedly, often on the behind, with a bundle of leafless tree switches, twigs or branches.
Birching was only entirely outlawed in the UK in 1962, although the self-governing Isle of Man only repealed the law in 1993. It has since found an active role between consenting fetishists in BDSM.
But it is not only the British who have a fondness for tree switches and Birching in BDSM! It is widely used in South Africa too. The trees mainly used here, where we don't have birch trees, are fruit trees like peach and apricot or willow trees.
Other names for the birch in South Africa:
Uswazi (Zulu/Swazi) – thin switch
Induku (Zulu/Swazi) – thick stick
Umqaqongo (Xhosa)
Umpetshisi (Xhosa) – twig from a peach tree.
Umpentshisi (Zulu) – peach tree branch.
Moperekisi (Sepedi/Sotho/Tswana) – peach tree switch.
Bulls Pizzle whip
Other names: Bultrilsambok/beespielsambok (Afrikaans), picha de toro (Spanish).
This is made from the cured, dried and stretched skin of a bull's penis. It is a type of Sjambok, though it's shorter, less pliable, more rigid and more sinewy than a sjambok.
Historically, the Bulls Pizzle Whip can be traced back to the 16th century. Stemming from the Dutch word for "sinew" (pees), the modern name is said to derive from the Low German pesel or Flemish pezel.
Traditionally, these implements were used for moving cattle. But they were also widely used as protection against thieves and pickpockets in other countries, such as Spain.
They are made from a slaughtered bull's penis which is stretched out before being left in some water to naturally expand. Finally, it's left in the sun to dry out.
It is a formidable BDSM implement. It also played a role in the Second World War when it was used by local paramilitary units aligned with Nazi forces on the Eastern Front, the Bulls Pizzle Whip was used to enforce terror on captured soldiers or civilians.
The Bulls Pizzle Whip is so severe and infamous, in fact, that it is outlawed in certain countries like Spain.
African whips 
Whips are widely used throughout Africa and are used primarily on livestock. But it is not uniquely South African like the other implements in this guide.
Anecdotes overheard during research:
"Isitswebhu – normally used to whip livestock, but stings ever so bitterly on your ankles. Made from plaited leather with a wooden handle."
"Umqaqongo – teachers at primary school would ask the older boys to bring sticks, they knew who brings the fattest, bendiest, hheyi futhi!"
"Umpetshisi – twig from a peach tree. My babomkhulu (father) had this trick of hiding it in his back, inside his red PPE coveralls to ambush us with."
"Ukwipili/cane – some high school teachers claimed to buy their canes from Enduduzweni, a home for the blind in Umlazi."
"Kgati – this is a slender (very bendy) tree branch that is/was used by men in the mountains to teach each other some lessons. I've done this with my friends and I went home with a couple of wounds but you should've seen the other guy."
"Mozacha – this is what my mother used to Moer (beat) us with. It is normally picked from a shrub tree and the target spots are legs and everywhere else magriza thinks will effect more pain."
"Lepara – this is a dried thicker tree branch crafted into a walking stick by the elderly. Rakgolos like pointing stuff with this thing, and they'll swing it to you fast. I still have a scar on my hand for a fall I took fleeing from this thing from an old Pirate supporter madala in Mbombela whose parking I stole with my lightning-fast Golf around 2011."
They make a delightful, sickening dull thwack when it hits the target. I love the sound it makes almost as much as the involuntary sounds emanating from people when I use it on them.
Why involuntary? Some pain is too great to contain, it cannot be endured in silence.
A sobering summary to these types of whips used for BDSM punishments in Africa
In conclusion, Africa is a continent that is never short of surprises and discoveries. Its criminally underrated contribution to BDSM implements like the Sjambok is just one of them.
When it comes to explaining these divine whipping implements in accurate native detail, there are few people who are qualified as Mistress Baton.
As well as being a highly respected figure in the BDSM scene, Mistress Baton sells hippo hide sjamboks made by a South African master craftsman to fetish connoisseurs with a taste exotic implements made with exquisite quality.
To discover more of her unique fetish content, inquire about obtaining a handmade hippo hide sjambok, or test your limits in person during one of her notorious BDSM sessions, you can reach her at mistressbaton @ gmail.com.