Source: Kentonline.co.uk
UK – KENT – Melissa Todd is a bright, engaging, articulate, well-spoken married mum-of-one who attended Boris Johnson's old college at Oxford University.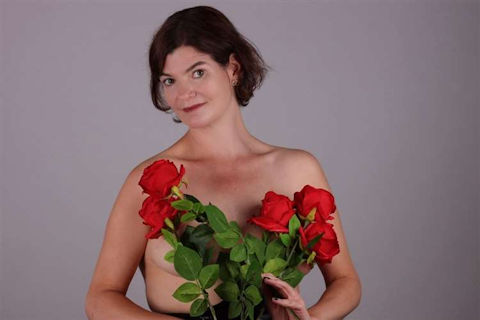 She is a newsreader for Thanet-based Academy FM, edits the Broadstairs Beacon newspaper and also runs a theatre company. Oh, and she's a dominatrix who, not to beat around the bush, charges £100 an hour to give men a damn good spanking.
"I get some very very odd requests," she admits. "I was told to park on somebody's hands. I didn't do that. I thought where the hell has that come from? I'm rubbish at parking.
"He wanted me to be in my car, singing along to the radio while he was screaming in agony. That was odd."
And who are we to argue?
A stripper from the age of 19, Melissa made a career change 11 years later.
"By the time I was 30," she explains, "I thought I didn't want to become a ridiculously ancient stripper so I thought I'd hang up my g-string and pick up a crop and start whacking people instead."
Today Melissa supplements her "one-to-one disciplinary sessions" with posing for photos or making videos of a very adult nature.
"I sound like this and I look terribly demure," she explains in her middle-class tones. "I sound like an average mousey housewife.
"But there are so many negative stereotypes around sex work and it just seems to be getting worse and worse – 'they're victims, pathetic and corrupting society', and all the rest of it, but they're just people, with lives and stories."
In an effort to try to challenge the perception of the sex industry Melissa has written a book – released on November 16 – called My Body Is My Business. Based around "a fictional framework", it draws heavily on her own experiences.
Now 45 and having lived in Thanet since 2003, Melissa is bold and fearless in the career she has chosen. Incredibly, she even convinced her mother to follow in her footsteps.
"She was a dominatrix as well," she admits.
"I corrupted her. She got made redundant in her mid-60s and thought 'I could do that' and she was really good at it. She was very good at role play too.
"I was working out of her house, as my son was a bit younger then, so she'd often hide upstairs with a baseball bat just in case, so she'd hear it all happening. And she thought 'wow, this is brilliant – £100 an hour, why am I messing about?' And they absolutely loved her."
Speaking to Melissa is a rather disarming experience. The image of the exploited sex worker falling victim to the depravities of men seems a long way from what she has experienced and the genuine enthusiasm with which she speaks of her chosen career.
"I've honestly not seen any exploitation in 26 years," she says. "I'm sure it's out there, but its certainly not the only story.
"Most of the film companies I work for are all run by women – and that's not a choice I've made. I'm happy to work with men, but all the spanking content is being made by women currently so I just don't see any exploitation happening. It's certainly not been my experience at all. And I think I would have seen it."
To be clear, she offers "no sexual services at all" adding: "It's just a good whacking. All the sex happens in their head."
Happily married, her husband thinks her sex career is "hilarious"and her son – now an adult – is well aware of how his mum earns her income.
Yet safety remains a concern. She recently tweeted about one encounter with a new client: "Always an anxiety-inducing moment when a new man ties you up. This one decided to tell me he was a policeman just as he gagged me. Maybe that's meant to reassure."
In the light of the Sarah Everard case, it's chilling in many ways.
"I was genuinely nervous," she admits when I ask her about it. "I hadn't seen that man before, so it was probably a bit idiotic really to allow him to tie me up. But he had worked with other girls that I knew. Of course you are putting yourself in a vulnerable position. I completely trusted him actually. And I wasn't suspended from a ceiling so if I needed to get away, I could have wriggled free. It was mainly for a photo shoot.
"But there is always a bit of 'oh Christ, is this is going to be the day I die' but so far, those who like spanking tend to be lovely, they really do.
"It's a fetish which tends to belong to clever, creative people, as obviously turning pain into pleasure takes quite a lot of brains and imagination. I've always been fine and hopefully will remain so, but yeah, I probably should have been a bit more sensible.
"It was only when he told me he was a police officer I thought 'oh no!'. But he was lovely.
"Most of the problems I had have been with women. If I'm going to get any abuse it tends to be from women on stripper-grams. My agent always used to say if you need the loo on a stripper-gram job use the men's as the women will punch you if they get the chance.
"I had stones thrown at me by women when I was working in Southall. Men are always very happy when you're naked, is my experience; women are very cross!
'Men are always very happy when you're naked is my experience; women are very cross!'
"What's the problem? I'm just making a living. I don't know why they're so unhappy.
"I'm not the enemy. There's nothing special about me. I'm not particularly attractive, I breast-fed for four years so my breasts aren't even worth seeing, I'm just using what I've got to have some fun and make a living. The idea I'm going to try and steal your husband is like a nursery worker wanting to steal your kid. You're just using them for cash. There's nothing to be frightened of."
Melissa got into the sex industry as a student.
"I was at Oxford University reading philosophy, politics and economics at Balliol College, Boris Johnson's old college, and I just hated it. I didn't fit in. I was a really shy girl from an Essex comprehensive and it just wasn't the right place for me at all. You need to be very confident and out-there to do well at Oxford and that wasn't me. So I decided to take a year out.
"I saw an advertisement in the Evening Standard saying 'dancers wanted' and promising up to £600 a night, no experience necessary. I thought that sounded perfect as I have no experience of anything, I love money and I like dancing. I was so green I turned up for the audition in leg-warmers. I thought it was going to be something like Fame.
"The auditions consisted of walking on stage, getting your breasts out and walking off again. There was no routine to learn. I didn't get it that time, but the next time I got the idea – borrowed some stockings and underwear, went back on and got the job.
"I loved it. I loved the camaraderie, the sequins and the glitter balls and the champagne. And I never looked back."
That first job was at the famous The Windmill strip club in Soho.
"It was only meant to be a year but I never stopped," Melissa explained. "You just get used to the compliments, the fun and the money. Obviously, that was exciting. I never quite got to £600 – I used to chat to people too much I forgot to hustle. But I was making £200 a night, so that's £1,200 a week, which in 1994 for a 19-year-old was an awful lot of money.
"I bought a house, I learned to drive, I gave my mum some money because she was skint. I just liked the lifestyle and enjoyed showing off.
"They had very strict rules in place, bouncers everywhere; when you did a table dance you had to be three feet away from the client and no touching. It was very hard to get into trouble really. There was a house mother who looked after us, made sure we didn't get too drunk and gave us sandwiches. It was all terribly sweet actually.
"There were all sorts of women doing it. There were lots of Australian backpackers doing the world tour and financing it through stripping; lots of students and older women, single mums, women trying to set up their own business – there was someone trying to set up a florist company but she couldn't make it pay so she was lap-dancing by night."
So what did her parents make of her career choice?
"They were very relaxed about it," Melissa remembers. "Despite my accent I don't come from a respectable background, so there was no expectation I should do anything steady or sensible.
"My mum sang and danced in cabaret all over the world, and thought my making money by showing off was a very sensible plan. My dad drove a black cab and used to pick me up from the Windmill at 3.30am every night, where we would have a friendly competition as to who'd managed to collect the most cash during the evening – usually it was him!"
After moving to the Sunset Strip Theatre in Soho, Melissa met "a chap who came looking to recruit girls for spanking magazines".
"He auditioned me in the back of a shop; he gave me a spanking and I thought this is quite fun," she recalls.
And thus her move out of stripping and into the world of domination began.
Needless to say, she's had some odd requests – other than the previously mentioned one about parking.
Does she sometimes wonder just where on earth these desires come from?
"All the time," she admits. "If they just want a standard beating I get that because I like spanking as well. But I get some very, very odd requests.
"I genuinely like my clients. Many are my friends, we hang out, I've counselled them through the death of their parents and the birth of their grandchildren. I think it's incredibly brave to come to a stranger and say 'I've got this weird fetish, I need to do this, can you help me?'.
"I might just laugh, or not understand or get it wrong. It's a privilege to help, genuinely. I know that sounds like a lie, but it's true.
"Do I enjoy it? I love it. I really do. It's really creative. I like performing. I like spanking people. It's really fun. It's like a therapy really. A release for them as well as for me – it's just brilliant."
And Melissa hopes her book will go some way towards removing society's knee-jerk despising of those who work in the industry.
"I'm really hoping to challenge those stereotypes and see that sex is just fun," she says. "It's not terrifying, it's not dangerous, I'm not corrupting the universe. I'm just having a laugh.
'Sex is just fun. It's not terrifying, it's not dangerous, I'm not corrupting the universe. I'm just having a laugh…'
"It's probably about 5% of my life and 5% of my clients' lives. But it just gives a bit of glamour and glitter to what, let's face it, can be a pretty mundane, tedious way of getting through it.
"It's just a giggle. To take it seriously is insane."
Melissa Todd's book, My Body Is My Business can be pre-ordered by clicking here.