PC Sam Grigg also bound the woman's mouth with tape and cut her with a knife
Source: Dailymail.co.uk.
USA – A bondage-obsessed Met Police officer who was sexually aroused by handcuffing and arresting women was today jailed for four years for binding the ankles and wrists of a female housemate with duct tape.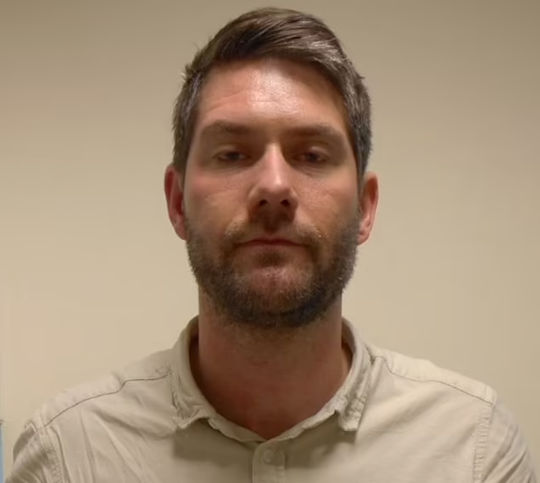 PC Sam Grigg also bound the woman's mouth with tape and cut her with a knife when he eventually took the tape off, after taking 'pleasure' in watching her try to escape.
When the woman threatened to report him to the police, he said: "Who are you going to tell, I am the police".'
Today, a judge said Grigg had done all this a year after Sarah Everard's murder by Met officer Wayne Couzens and must have known of serial rapist cop David Carrick's arrest.
Judge Peter Lodder, KC, said the ten-minute incident must have seemed like 'an eternity' to the victim, adding they would have been akin to 'ten minutes of terror'.
He added the incident had 'terrified' the victim, and that Grigg had 'utilised' his position as a police officer in an attempt to scare her into not reporting the incident.
Judge Lodder sentenced Grigg to four years in prison, with an extended license period of two years following his release.
Jailing the disgraced 36-year-old former police officer, he said: 'I find you to be dangerous.
'In December 2022 you had been a Met police officer for six years. You lived in Twickenham in a large townhouse with four housemates.
'She was the newest resident of the house and described you as 'practically a stranger to me'.
'She was terrified, you rendered her almost completely helpless.
'When you eventually released her, you cut her ankle, when she asked you not to cut her again you replied, "What will you do if I do?'.
'In response to her reply that she will tell someone, you said "Who are you going to tell, I am the police".
'You knew the likely effect of this observation, this was over a year after the publicity surrounding the death of Sarah Everard and some months after the arrest of David Carrick.
'Once she was fully released you asked, "Do you forgive me?'. She said she did not.
'The whole incident may not have lasted much more than ten minutes, but for her it was terrifying and she was deeply traumatised.
'In addition I take account of the pleasure that you appeared to derive from committing this act and your professional role as police officer, which you utilised in an attempt to prevent her from reporting what happened.
'Importantly I take the view that this was for your own sexual gratification.
'The incident has had a profound and damaging effect on your victim.'
Alexander Agbamu, prosecuting, earlier told the court an ex-partner of Grigg came forward to police after hearing about his case, describing him as having an 'obsession' with 'bondage' and 'BDSM'.
Mr Agbamu said: '[Grigg's] ex-partner was aware that he had an obsession with what might be regarded as BDSM.
'Bondage was certainly something he seemed to pursue. His partner at the time seemed far less enthusiastic.
'This woman heard this case and felt very disconcerted when she found out it was her former partner.
'She expressed the hope that [this] was the first time the defendant acted like this towards a person without that person's consent.'
The court heard the victim rushed to her room in the shared house – in which she and Grigg were the only two present at the time – after the incident and texted a friend, describing what happened and adding, 'I genuinely, like, 100 per cent thought he was going to rape me'.
She also messaged her friend saying, 'My mind was so torn, because he's always been a nice guy, a bit weird but very sweet'.
Reading from the victim's impact statement, Mr Agbamu said: 'She has not slept properly since this incident.
'She has experienced nightmares at night and flashbacks by day. She didn't eat for a long time.
'She considered harming herself and experienced increased anxiety and generalised deterioration in her mental health.
'She has also been questioning whether she was to blame for the incident.'
After going to answer the front door during the incident, the court heard Grigg returned to find his victim trying to find a knife to free herself.
He told her she would 'never be able to do it' and 'spent the next few minutes watching her' trying to access kitchen drawers for a tool to cut herself free.
Judge Peter Lodder added: 'Your victim hasn't slept properly since, has experienced nightmares, didn't eat for a long time, is jumpier in everyday situations… She has self-harmed and has considered using a knife on herself as well.
'Sadly, for a wholly innocent victim, she has even questioned whether she was to blame, and wondered if she had brought this upon herself.
'She is now uncomfortable in environments where there are lots of men, and anxious about police officers, police vehicles and even walking past police stations.
'The incident has caused her to mistrust the police. She is concerned about the recruitment process, although she has found her experience with the investigating officers much better.
'The next day she didn't eat or leave her room and tried to think things through, she started shaking every time she heard your door open, and continually burst into tears.
'She contacted a number of people including her landlady before successfully contacting the police.
'It may be that she was thwarted by an online reporting system which categorised her report as a complaint against a police officer rather than a criminal offence conducted by a police officer, but it is likely that your threat caused her to lack confidence about going straight to the police.
'It is clear you have an obsession with BDSM conduct.
'The statement from your former girlfriend speaks of your enjoyment of the power you gained by restraining her, and that you were particularly turned on by restraining her mouth.
'She questioned whether your interests were appropriate given your job In her opinion you get a kick out of arresting women as it is a form of restraint.
'Your pre-sentence report finds you are a high risk of serious harm to a known adult, and a medium risk to the public; specifically any female with whom you are in a romantic relationship, is a friend or a housemate.'
Commander Jon Savell, who is responsible for the Met's professional standards team, said in a statement: 'This was a terrifying ordeal for the woman.
'Grigg's behaviour was appalling and I know it will cause concern among members of the public.
'He's let down the Met and his colleagues who are committed to protecting Londoners.
'We took immediate action to suspend Grigg from duty when his offending came to light and dismissed at the earliest opportunity.
'We are determined to have a Met that the public can trust, with officers that people feel confident to approach.
'When someone fails to meet these standards, we will take action to remove them from our organisation.'
Grigg received four years in prison, as well as an extended licence period of two years upon release, for the first count of false imprisonment.
He received another 12 months for the second charge of assault occasioning actual bodily harm, and was also handed a restraining order against his victim.