By reaffirming their role as goddesses of kink, four women tell us why it's a powerful driving force in a patriarchal society
Source: Vogue.in.
INDIA – MUMBAI – Rose, a Mumbai-based professional dominatrix, finds femdom and being assertive almost like an alternative form of therapy. While most of us may turn to meditation or exercise to de-stress, she finds solace in exerting domination, allowing her clients—mostly men—to live out their fantasies and fetishes in a safe space, simultaneously exercising the freedom to do it on her terms.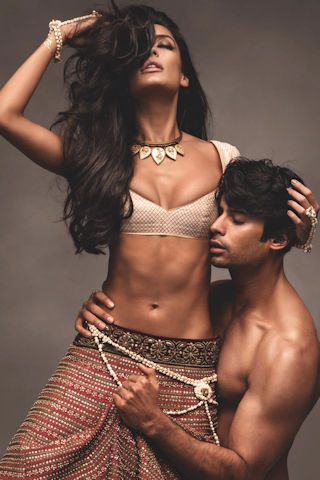 "I was always the Alpha in most of my relationships. Some men I dated couldn't keep up, but others enjoyed being dominated," she says. However, becoming a professional dominatrix (pro-domme) was never on the cards. "I was hanging out with my best friend one day when he told me I'd be great at femdom. I laughed it off, thinking he was kidding. But he told me I could channel my dominant side into something that would make me feel powerful." That's all the convincing she needed.
Rose now enjoys the patronage of clients who worship her and submit to her every request. From investment bankers, actors and even politicians, she helps men navigate their desires while staying in control of the narrative she writes for herself. "They [her clients] want me to be in control because they're tired of being in charge," she opines.
The figure of a dominatrix is undoubtedly controversial, especially when you view it through the lens of a deeply patriarchal and repressed country like India. Goddesses of kink provoke intense reactions, ranging from fear, disgust and revulsion to excitement and titillation. These women are conventionally depicted as a threat to moral living and are considered defective and toxic. But Rose says her goal is to subvert these traditional judgements and recast herself as a "free, intimate woman." By tapping into feminist philosophy, contemporary sexual ethics and the current cultural discourse around #MeToo, a professional dominatrix rewrites the narrative of judgement and conventional intimacy that permeates Indian society.
Finland-born and Mumbai native Aili Seghetti, a relationship reinvention specialist, intimacy coach, and founder of The Intimacy Curator, an organisation promoting self-discovery through emotional and sexual well-being, says pro-dommes are not "promiscuous" but are women who push back against what society deems immoral. "What happens when we let go of our insecurities, judgements and moralistic relationship philosophies and pursue a life that offers complete control? It's everything these women could have hoped for."
Seghetti, who moved to India more than a decade ago, says her expertise lies in imparting knowledge on alternative sex, kink lifestyles and subculture experiences that she has accumulated over a lifetime of curiosity. "Sex is more than just about penetration. As a generation who grew up watching and learning from porn, I want men and women to familiarise themselves with other aspects of intimacy. I have clients that stop having sex because the kind of sex they enjoy is different, and in most cases, their partners might find it unusual. Some like a soft touch while some need to feel a stronger sensation. Not everyone has the same pleasure points."
Apart from men, Seghetti also interacts with women. She says more and more Indian women are opening up to the idea of exerting themselves in a relationship—sensually and sexually. "We organise online and offline workshops to instil confidence in women who consider themselves submissive because that's what they think they should be, especially in the bedroom. But when you put them in a position of power, the switch is almost immediate," she reveals.
The Intimacy Curator recently organised the country's first public kink event in Mumbai: a foot fetish cruise. "We are proud to have offered foot fetishists a judgement-free zone to explore their desires and have fun in a consensual and safe environment. Some of the women we empower were invited and were, with consent, told to give in to being served by men with foot fetishes. We screened and set boundaries with the men who were allowed to come on board to ensure safety," she says.
Professional dominatrixes Goddess A and Goddess N, who run the Instagram account @hausofmenace, had contrasting ideas of sensuality growing up. For Goddess A, it was rooted in complete surrender to a man, as was deemed appropriate by society. On the other hand, Goddess N found resonance in feminine power, particularly femme fatales. "But as an Indian woman, I never thought I'd fit into that role. When I discovered this alternative lifestyle, I finally came into my own. For me, it is empowering to be worshipped, to have people submit to me willingly," says Goddess N.
Their roles give them the freedom to be who they want to be. They say there's no discrimination based on who they are, their body type, or whether they fit into the constraints of conventional beauty standards. "The power exchange from kink play helped me reclaim agency over who I am. Also, when assigned male at birth (AMAB) clients pay, it allows me to correct the imbalance in the gender pay gap, even if it's in a small way," says Goddess A.
While pop culture shows like Netflix's Bonding depict dominatrixes as cruel creatures of habit, they don't inflict pain. "Also, BDSM isn't sexual. While some men may want more, we don't indulge them," they say. "We don't do it for money alone. We charge because it's a skillset we offer—like any other profession. Knowing how to help clients manage pain and process trauma requires research, knowledge and skill," they conclude.