Margaret Qualley and Christopher Abbott star in Sanctuary, in theaters May 19
Source: People.com.
USA – Margaret Qualley steamy new role requires a safe word.
The Emmy-nominated actress, 28, stars as a Rebecca, a dominatrix involved in a twisty role-playing dynamic with her client Hal (Christopher Abbott) in the first trailer for Sanctuary that debuted Wednesday.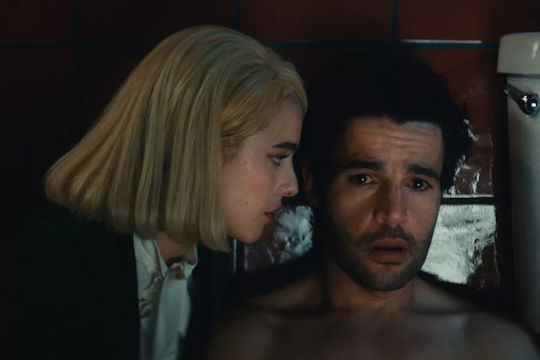 "In the wake of inheriting his father's hotel chain, Hal attempts to end his long and secret relationship with Rebecca. A battle of wills ensues over the course of one incredibly fraught night, with both Rebecca and Hal struggling to keep the upper hand as the power dynamics swing wildly back and forth," according to an official synopsis.
Director Zachary Wigon said in a press release that Qualley, known for roles in Maid and Once Upon a Time… in Hollywood, and Abbott, 37, from The Sinner and Black Bear, were "at the top of my list" for Sanctuary. The movie, which was filmed in 18 days, had its debut at the 2022 Toronto Film Festival.
"They're both young but they've already put together such exceptional bodies of work. Margaret read it and liked it, and we got together for a coffee in New York to talk about the film," said Wigon. "One of the first things I recall her saying when we sat down was that the relationship between the characters reminded her a little bit of jazz. It was funny because I had been thinking about it in a similar way."
"I wanted actors who would have contrasting but complementary styles with respect to how their on-screen personas function — you don't want two actors who play the same 'instrument' in terms of their performance style," he explained. "Margaret came on, and then Chris came on maybe a week after her. I am an enormous fan of them both."
Sanctuary is in theaters May 19.