Source: Saportareport.com/
USA -ATLANTA – Metro Atlanta's thriving kink community is in transition as a legendary BDSM club is closing after nearly 20 years — but a new one is rising to carry on its traditions.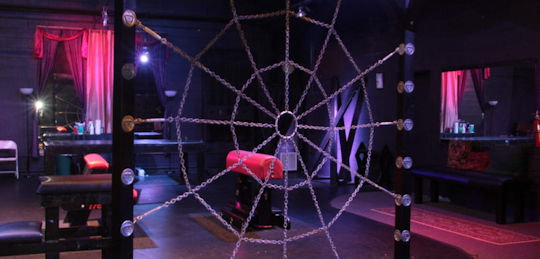 Since 2003, the club 1763 has been a hub for the fetish and BDSM communities, boasting one of the largest "dungeons" in the country and drawing thousands of members from across Georgia and the Southeast. But its end arrives Oct. 1, as its building — a discreetly bland box in an industrial park — has been sold to a commercial printing company. It's yet another case of the pandemic economy and the metro redevelopment frenzy hitting the subcultural bastions crucial to Atlanta's identity, culture and economy, like the gay and leather community's Atlanta Eagle and the underground music scene's Star Community Bar and Drunken Unicorn.
But this time, a new generation of owners is taking up the mantle to open a new club early next year under the evocative name Decadent Desires. It'll be in a different spot yet to be announced, but the plan is to continue the 1763 ethos of educational programs, community-building and safely monitored exploration of kink.
The world of kink and its subset of BDSM (bondage, discipline, domination, submission, sadism and masochism) is highly diverse. Practices and sub-subcultures include the mild and wild, the sexual and nonsexual, from whips-and-chains to domestic service to sensual touching with silk and much, much more. One community unifier is that all are erotic and/or relationship minorities that remain subject to misunderstanding and outright bigotry from the mainstream — a situation not improving in an era of conservative witch-hunt panic over anything not straight and vanilla.
That's one reason many kinksters use "scene names" — pseudonyms — to protect their privacy. That includes the local club owners: Ms. P and fotodawg of 1763, and Varsler and KinkyVagabond of Decadent Desires. In a way, it even goes for 1763 itself, whose cryptic name is simply a discreet reference to its street address on Montreal Circle in the small DeKalb County city of Tucker.
A history of community support
The club was founded by a dominatrix known as Ms. Whip and quickly grew a reputation as unparalleled in size and quality in the entire Southeast — to this day, there's nothing like it in Georgia and the few clubs in neighboring states are much smaller. Operating as a private membership club to allow nudity and kink practices, it hosted regular events and became a hub for the many independent kink groups that also meet elsewhere, in private homes or other facilities. A boom came in 2011 and 2015 with the blockbuster BDSM novel and film Fifty Shades of Grey, which helped many kinksters out of the closet, though the story is loathed in much of the community for misrepresentation and romanticizing an abusive relationship. The club also anchored major kink conventions like DomCon, which came to Atlanta for over a decade due to 1763's influence, and the current annual event Frolicon.
A near-death experience for the community came five years ago when Ms. Whip retired and 1763 faced a shutdown. Among the concerned fans were Ms. P and fotodawg, a married couple from the northern suburbs who first learned of the club via Frolicon. Intending to be silent partners in a club-saving buyout, they ended up the sole owners, taking over in July 2018. In the community, relief mingled with anxiety about the largely unknown newcomers. They soon won over many with an atmospheric makeover of the space and a welcoming approach informed by their eclectic backgrounds in social work, theater and running 12-step programs.
The couple says running the club has been rewarding for their own self-discovery and personal growth — and for seeing the thousands of members do the same.
"I think people from marginalized communities feel safe here," said Ms. P. "It's almost like the first time you go to Pride."
Fotodawg said that, as someone raised in a strict religious family with a lot of prejudices, he's become more tolerant thanks to the club's diversity and a scene that taught him to accept kinks he might not share — "not to 'yuck' somebody else's 'yum.'"
"My edges softened," he said, adding he's become a "better husband and a better friend."
They noted a kink club has several community purposes. The "dungeons," or kinky play spaces, offer specialized equipment that many people can't afford, such as spanking benches, flogging racks and structures for bondage rope-rigging. There are indoor and outdoor gathering spaces for socializing and specialty group meetings. There are educational elements like lectures, demonstrations and the freedom to watch "scenes," or BDSM play, for enjoyment and edification. With such touches as castle-style, torch-flanked dungeon doors, it of course is supposed to be a mood-setting spot for fun and romance: "a fantasyland… a playground where you get to leave your troubles behind," Ms. P said.
Then there's the safety factor, as meeting in a club avoids the risks of private meet-ups in a home or hotel where things can go wrong, intentionally or otherwise. Club gatherings are patrolled by "dungeon monitors," experienced volunteers trained in first aid who police the basic rules – no booze, no cell phones — and can shut down any problem behavior. Every event begins with a lecture on the core BDSM principles of explicit consent and detailed negotiation for a scene — something you'll never hear in a vanilla nightclub. "If more vanilla people did this in their relationships, their relationships would be better," said Ms. P, who now leads therapists on club tours to educate them in kink.
Ms. P and fotodawg successfully led the club through the pandemic nightmare with such tactics as boosting its many appearances in music videos and selling "Bondage Bonds" — a donation that would be converted into membership or goods when the club reopened. Now in their 50s, the couple knew they wouldn't run the club forever. But the sale forced their hand. Rather than trying to find a new space, they're retiring the name and looking at a long-term plan of heading to Florida and just maybe starting a club there one day. But they also knew that having a space was crucial to the community they had served.
"This isn't us. This is we," said Ms. P of that community relationship.
A new club to carry the torch
Varsler and KinkyVagabond know that very personally. They met at 1763 and are now preparing to get married in addition to starting the new club in a new location. In their 30s, the couple represents a new generation of community leaders.
"When you need different aspects of kink… it's not easy to date normally or even have people look at you normally," KinkyVagabond said. "We want to create the home and community that brought us together."
Varsler, who has worked as a 1763 dungeon monitor, said they have bought most of the club's furnishings and plan to continue its educational elements and structures. "They've done such a wonderful job," she said of Ms. P and fotodawg. "Atlanta couldn't have found better people to carry on the torch," added KinkyVagabond.
As with many marginalized subcultures, that torch-passing includes a wealth of do-it-yourself knowledge in esoteric subjects like safer ways to tie someone up or hit them with a paddle, or how to consensually give up power to another person. "There is no school board" overseeing such lessons, notes KinkyVagabond. "The community built this from decades and decades of what works."
Varlser notes that also goes for an entire DIY small-business subculture of crafting BDSM equipment and fetish outfits — often featured in pop-up markets at clubs. "You can get something quality that supports your neighbor," she said.
The couple gave their interview at 1763 shortly before speaking about Decadent Desires to Whippersnappers, a BDSM group for the 40-and-under crowd. They were dressed in fetish best — Varlser in latex, KinkyVagabond in leather, and both in stiletto heels. But, as Varsler noted, the highly diverse community welcomes all types. "You have your nerds. You have your executives… I think the people here are beautiful."
KinkyVagabond said that, much like him, "you can be a guy in a corset and 5-inch heels," and the response will be praise for your shoes. "You're gonna find someone who likes what you like" — or at least "high-fives you" on the subject, adds Varlser.
They're also acutely aware of mainstream prejudice. "It's not what you see in the movies," said Varlser, noting that BDSM is often used for shock or exploitation and its practitioners are often depicted as "broken" rather than fully human beings. "What is there to fix?" she asks.
Thus, they're also acutely aware of the importance of continuing the synergy between a club and its cultures.
"It is absolutely nothing without the community," said KinkyVagabond.
"It's getting into a business that's something that you love and also … something you feel like it matters," Varsler said. "Because you are providing a space for people that are in a marginalized group, and even within that marginalized group, there's marginalized groups. So having a place that people feel safe to come and be themselves – it's very valuable to provide to people."