Source: Bedbible.com.
WORLD – Here are 190 BDSM punishments you can use for nearly every dominant/submissive situation. Whether you are a hardcore Dom with several slaves or you simply role play with your partner, I've laid out dozens of punishments for your Submissive. And when we're finished, please feel free to comment with your BDSM punishment ideas!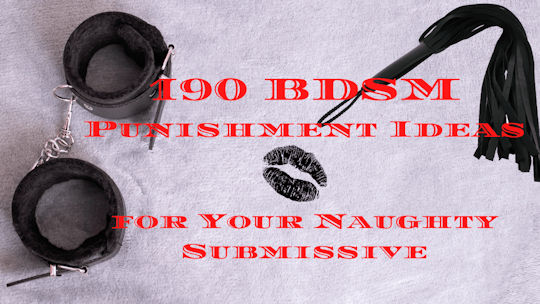 Rules and Safety in BDSM Punishment
Before implementing any type of BDSM punishment, remember the rules and safety that go hand-in-hand in a dominant/submissive relationship.
Discuss Activities and Punishments
Entering into any type of BDSM relationship requires you to discuss activities and punishments. First, you must discuss how far you are willing to go. That includes sex (or no sex), the types of activities in which you're willing to participate and punishments you're willing (or not) to do. Then, move on to the next and most important step; the safe word.
Safe Words and BDSM
Having safe words during consensual BDSM play is crucial. Many times, a willing participant may not be prepared for what they previously consented to. In that case, a safe word is used to stop the activity immediately. Additionally, a safe word is important if you are feeling any unusual pain or discomfort. Finally, the safe word is just as important for the Dom to respect as it is for the Sub to use to stop any activity.
(more…)